For entrepreneurs, resources are limited and the challenge is to manage them in the best possible way. Among these challenges, time is one of the main (and sometimes the only) assets available. In that sense, efficient time management and increasing productivity turn out to be essential tasks for every entrepreneur who wants to see their business grow.
Using the technological tools available can make a big difference. That is why we have created a list of applications that can help you become an entrepreneur and help you to manage the available resources in a much more productive way.
In addition, our list of productivity apps for entrepreneurs is focused on mobile apps. Why? According to the latest data from comScore, in the United States, users spend two thirds of their time viewing digital content in smartphones and tablets. In this scenario, mobile apps represent about half the time we spend online.
It seems then that the ability to become more productive is literally in our hands.
Productivity apps for entrepreneurs: Boost your full potential
1.- Unroll.me
It instantly displays a list of all the newsletters you are subscribed to and allows you to easily cancel those you do not want to receive.
Available on App Store
2.- Workflow:
Customizes your smartphone´s interface with shortcuts that save you time and effort when you want to reach your favorite apps or perform your routine tasks.
Available on App Store
3.- Slack:
It is basically a tool for teams' communication. It allows interactions between work teams as if they were in the same office.
Available on App Store and Android
4.- Accompany:
Still a beta version, but we include it in our apps list because it is simply a brilliant idea. Its developers promise to draw up an executive summary of each new registered contact and send it in an email. This tool combines available information in email accounts (Google or Microsoft), the mobile calendar and Facebook and Twitter accounts.
Available on App Store
5.- Tripit
Essential when starting any trip, business or pleasure. This app resends all booking confirmations to one place and creates a unique itinerary, accessible from any synchronized mobile device.
Available on Android and App Store.
Classic productivity apps for entrepreneurs, that do not go out of fashion
Even in 2017, these apps are essential to save us time and effort. Use them if you want to work abroad, organize teams from different parts of the world, or if you want to keep up with the latest updates in your business or industry.
6.- Google Drive
The Google option to save, open and edit files in the cloud, from any device. Includes 15GB of free storage, expandable through payment plans. This space is shared with the associated Gmail and Google Photos accounts.
7.- Trello
Discipline and organization are crucial for every entrepreneur; hence a task management tool is essential. For some years now, Trello has allowed its users to organize themselves in work teams and in a very visual and collaborative way through its board format. The tool offers a free version, with the possibility of extending the functionalities, through its payment plans.
8.- Pocket
To improve your time management tasks, Pocket is one of the best productivity apps for entrepreneurs available. It allows you to save digital content to view later, offline, on any device. Although the free version is quite powerful, its premium version offers the possibility of eliminating advertising and maintaining a permanent library of files.
9.- Feedly
The best feeds reader available. If as an entrepreneur you always need to be informed of what happens in your industry, this tool will allow you to add news feeds of your interest, store them in one place and classify them into categories. Integration with other apps is part of the paid version, but the essence of Feedly is available, almost completely, in its free version.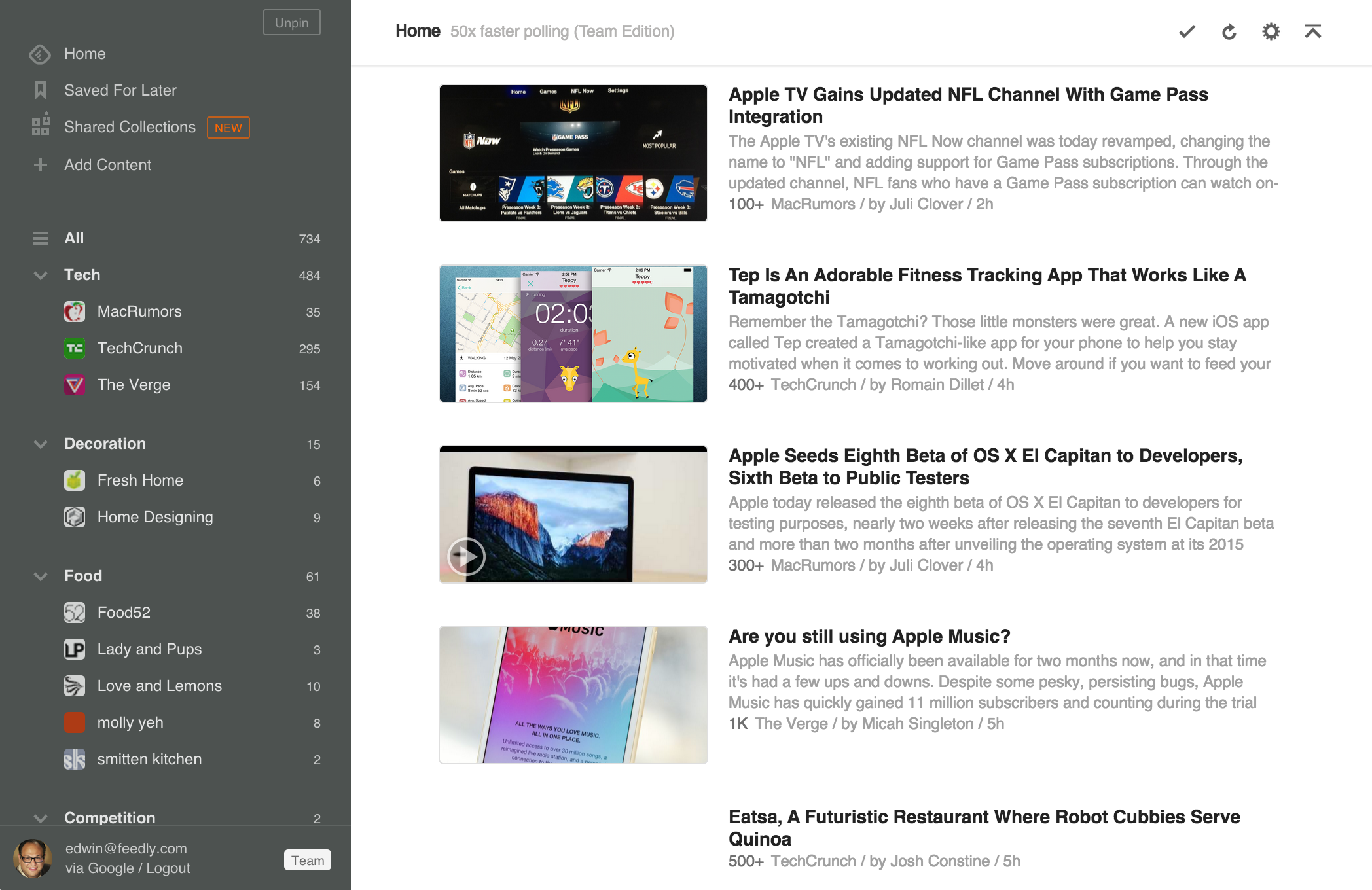 10.- Evernote
Space to store information and keep it organized and accessible. Use it for your notes, emails and reminders. The free version offers 60 MB for storage, expandable up to 10 GB for about € 30 per year.
What did you think of our list? Have you already tried any of these apps? Leave us a comment with your experience. It will surely be very useful to the rest of the #IEAlumni community!
(Visited 9 times, 1 visits today)